Aftervote is a new web search engine which is built on a social search engines concept. When users search for information using Aftervote, it takes results from Google, MSN, Yahoo search engines and combines the data to provide more accurate search results. Search results of Aftervote are sorted based on number factors returned by Google, Yahoo, MSN, Alexa and anonymous user information.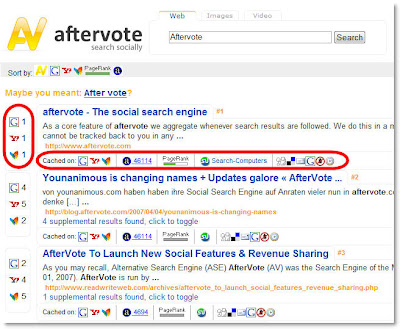 User interface design of Aftervote is amazing. It shows search results in an elegant way with lot of information. Each web page shown in the search result contains
Search ranks assigned by Google, Yahoo and MSN engines
Information about the cache state of the web page in Google, Yahoo and MSN servers
Alexa Rank of the link
Google Page Rank of the link
Also major Web 2.0 elements are incorporated with every search result. Options like voting for the web pages which we like, blacklist the sites which we don't like and bookmark the web pages in the sites like Digg, Stumble, del.icio.us, etc are provided.
It is worth spending some time to play with the search engine to get very informative search results. Read the blog entry to know more details.