It is less than 24 hour's time to stop waiting for the so called dream phone of the year and grab it in to your hands. Apple is releasing the much awaited(in fact much hyped) and next generation technology mobile iPhone tomorrow across US through Apple retail stores, AT&T stores, and the online Apple Store.
iPhone is the much hyped gadget which I ever heard about. Almost all the famous technology web sites and magazines are publishing articles about iPhone for the past 3 month. If you look at social bookmaking sites like Digg.com, del.icio.us and reddit.com you will know how many front page stories are about iPhone.
But is iPhone worth for so much hype? Will it reshape the mobile market? Is any other company trying to compete?
Let's see what Apple is saying about their iPhone and other mobiles which are in the arena. The following comparison chart is released by Apply couple of days ago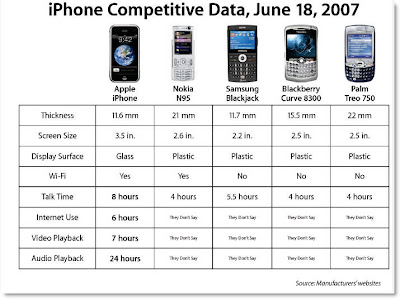 I have done a little more analysis on the feature of the mobiles iPhone, N95 and BlackJack and here is the comparison chart
Apple iPhone

Nokia N95

Samsung BlackJack

3G

No

Yes
(HSDPA-enhanced)

Yes

Ability to change screen orientation when rotated

Yes

No

No

Light Sensors

Yes

No

No

Browser

Safari

Nokia Web Browser with Mini map

Internet Explorer

Camera

2 mega pixels

5 mega pixels

1.3 mega pixels

E-mail

Displays HTML-rich; Push IMAP (Yahoo); IMAP/POP3

POP3/SMTP

POP3, IMAP4

Expansion slot

None

microSD

microSD

GPS

No

Yes

No

instant messaging

No

Yes

Yes

Keyboard

Normal

Normal

QWERTY

Memory

4GB/8GB

160MB

64MB (RAM); 128 MB(ROM)

MMS

No

Yes

Yes

Music player

iTunes

RealPlayer

Windows Media Player

OS

Mac OS X

Symbian S60

Windows Mobile 5.0

Processor speed

Unknown

330MHz

220 MHz

Ability to turn screen off when put up to your ear

Yes

No

No

Replaceable battery

No

Yes

Yes

Screen

8.9cm (320x480 pixels)

6.4cm (240x320 pixels)

5.6 cm(240 x 320)

Spell checker

Yes

No

No

Touch screen

Yes (multi-touch sensors)

No

No

User can install 3rd-party apps

No

Yes

Yes

Video capture

Unknown

640 x 480 (30 frames per second)

Unknown

Video output to TV

No

Yes

Unknown

Weight

136g

120g

99g

YouTube

Yes

Yes

Yes

Display

Glass

Plastic

Plastic

Talk time

8 Hours

4 Hours

5.5 Hours
Source: CNET and respective manufacturer web sites
The red colored features are little disappointing. It is very hard to believe that iPhone does not have the capability to send an MMS and capture a video. But it is true!! Here is the list of all features which iPhone does not have
MP3 Songs as Ring tones
Games
Flash support
Instant Messaging
Picture messages (MMS)
Video recording
Wireless Bluetooth Stereo Streaming
3G
GPS
Removable battery
Expandable Storage