Today Google upgraded their online web based Document and Spreadsheet service "Google Docs & Spreadsheets" with new user interface and support for folders. In the new interface document list has been given a complete visual overhaul with "new icons, more content, and better organizational controls"

The major upgrade in this new version is support for folders. From the day since Google Docs is launched users are requesting Google to provide support for folders. At last support for folders are rolled out today. Folders replace tags in the new interface and old tags are automatically converted to folders. Also a document can live in more than one folder at a time(similar to tags).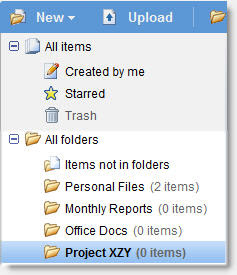 Another upgrade in this new version of Google Docs is auto suggest in search. When users searches for documents, it automatically offer suggestions as they type.